Tässä ne kerhontädeille neulahuovutetut korut, joista kerroin muutama päivä sitten: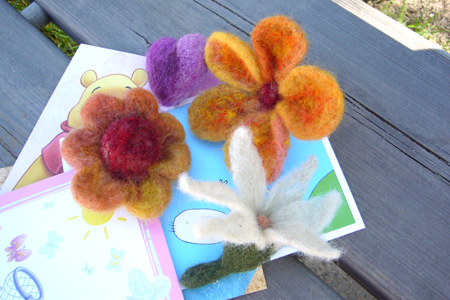 Korujen takana on ihan perinteiset hakaneulat kiinnittämistä varten.
Edit: Sekoitin eri värisiä villoja käsikarstoilla, niin sain elävämpiä sävyjä aikaan. Pinnalle ripottelin hieman kierrätetttyä sarisilkkiä efektiksi.
This entry was posted on Wednesday, May 30th, 2007 at 10.35 and is filed under huovutettua. You can follow any responses to this entry through the RSS 2.0 feed. You can leave a response, or trackback from your own site.